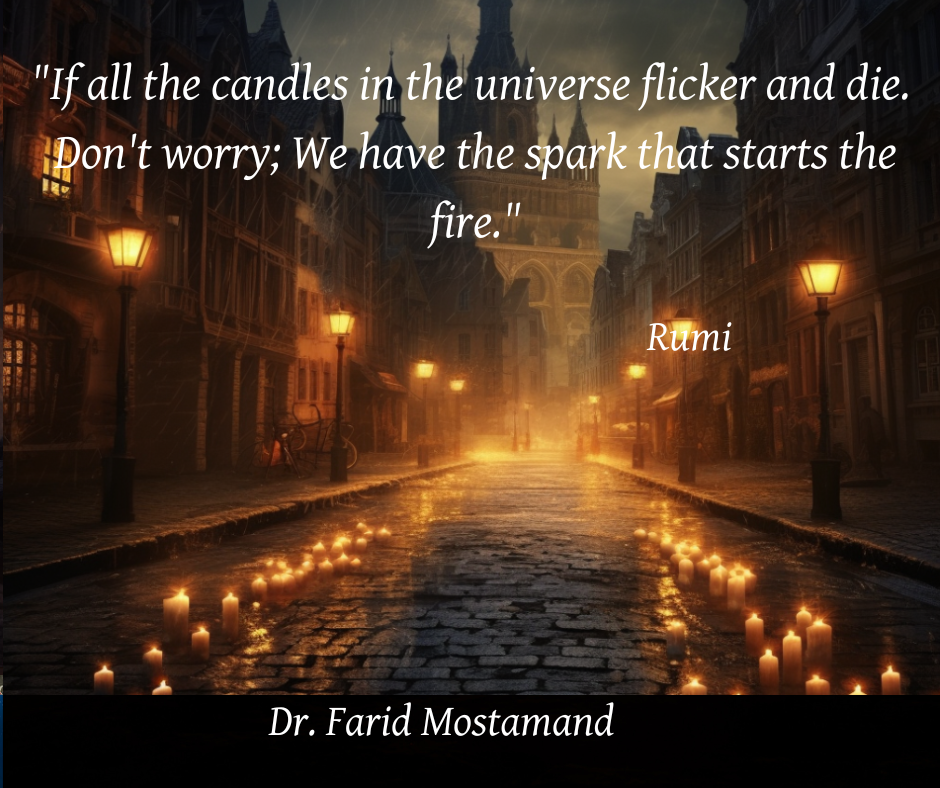 Rumi's evocative poem, "If all the candles in the universe flicker and die. Don't worry; We have the spark that starts the fire," delves into the profound concept of the divinity within us. Through these poetic lines, Rumi poignantly reminds us of the boundless well of inner strength and spiritual essence in each human being.
The "candles in the universe" symbolize the external sources of light and guidance we often seek. These external influences may vary and sometimes falter, leaving us feeling lost and disheartened. However, Rumi's words provide solace, assuring us that an everlasting and indomitable "spark" exists within us.
This "spark" signifies the divine energy, the sacred essence, or the universal consciousness intrinsic to our being. It is an eternal flame that kindles our spirit and illuminates our path, even in life's darkest moments. Rumi urges us not to be disheartened by the transient nature of external circumstances, for within us resides an unyielding connection to the divine, an infinite source of wisdom and strength.
The poem's essence lies in recognizing the divine potential within, empowering us to embrace our inherent divinity and see ourselves as a part of the greater cosmic whole. It emphasizes that we are not mere spectators in the universe but co-creators, intimately linked to the divine energy that permeates all existence.
We can find purpose, resilience, and spiritual fulfillment by understanding and nurturing this divinity within. Rumi's timeless message inspires us to cultivate self-awareness, embark on a journey of inner exploration, and ignite the spark that sets our souls ablaze with wisdom, love, and the realization of our divine essence. In embracing this divine spark, we unlock the power to illuminate not just our own lives but also the lives of others, igniting a radiant flame of unity and harmony in our vast universe.
Link to my book on Amazon. https://www.amazon.com/dp/B0BXK5MW5G