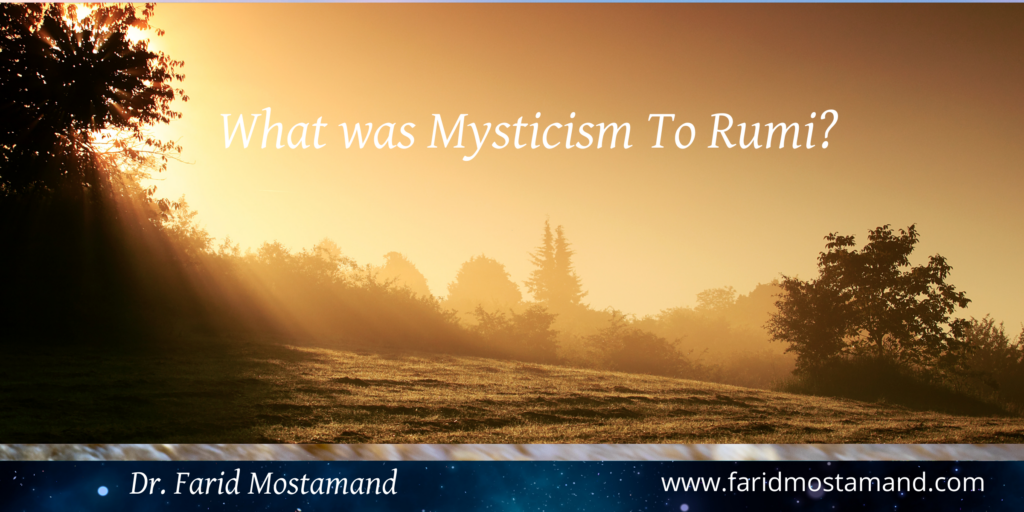 Rumi was a mystic Sufi. To understand the deep meaning of Rumi poetry, we need to know what Mysticism is. Mysticism is not a religion, it is about the reunion with God. Mysticism believes that we are part of the universal consciousness and our purpose in this life is to seek the reunion with God.
Mysticism believes in the divinity within, as Rumi said,
"I tried to find him on the Christian cross, but he was not there;
I went to the temple of Hindus and the old pagodas,
But I could not find a trace of him anywhere…
I searched the mountains and the valleys,
But neither in the heights nor in the dept was I able to find him.
I went to ka 'bah in Mecca, but he was not there either….
I questioned the scholars and philosophers,
But he was beyond their understanding…..
then I looked into my heart, and it was there
where He dwelled that I saw him."
to Rumi and mystic Sufi, religion is a personal, spiritual experience beyond logical argument and sense perception.
A mystical experience is a moment that the boundary between self and God disappears.
All three Abrahamic traditions believe that in mysticism one attains a form of knowledge that is behind the intellect. Mystical belief in all three traditions is seeking direct union with God.
Mystical experience is not for a few chosen, everyone can experience the mystical moment with dedication and hard work to purify oneself and start the journey toward unification with beloved.
Rumi was like any other religious person in the thirteenth century. He instead the importance of religion for guidance to connect us with God. He read Quran regularly. Rumi said,
"Flee to God's Quran and take refuge in it;
Therewith the spirits of the prophet merge.
The book conveys the prophet's circumstances.
Those fish of the pure sea of Majesty."
But shams influenced Rumi and made him closer to mysticism. and this is how Rumi became one of the influential mystic poets that he is known for. This strong bond with mysticism created Rumi's best poetry that we enjoy today.
Without this strong bond with mysticism, he would have not obtained the title of, "the poet of the heart," in the west.
To Rumi and mystic Sufi, everything is about love and love is the only fuel that can take us to the journey of unification with God.